Junie B. Jones and That Meanie Jim's Birthday
Written by Barbara Park
Illustrated by Denise Brunkus
Reviewed by Angeala C. (age 12)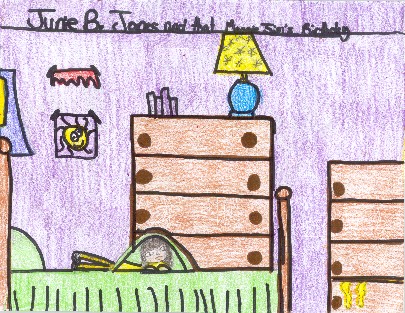 This is a story about Junie B. Jones. One day on the bus there was this boy that was having a birthday party at his house. So Junie B. Jones asked the boy if she could be invited to his birthday party this Saturday. So after she stopped talking the boy said ?NO?. That is how it went through the whole story except the ending! At the end of the story things changed. You will have to read the rest of the story to find out what happens between Junie B. and Jim.
I think this would be a great book for people to read because it is a wonderful story! I think the characters are very interesting because they have such different personalities. I like the way it showed a lot of fighting and action in the story. I felt happy and a little upset. It made me think that they were never going to get along in the beginning of the story. This story reminds me of when my brother, my cousin, and I fight. However, sometimes we do get along.
I recommend this book because I love the girl in it because she is nice to other people and shows them respect. I think kids in 3rd-5th grade should read Junie B. Jones. They would love it because of the way the author explains what is happening with the characters.