Bailey School Kids: Angels Don't Know Karate
Written by Debbie and Marcia Thorton Jones Dadey
Reviewed by Devon R-C (age 8)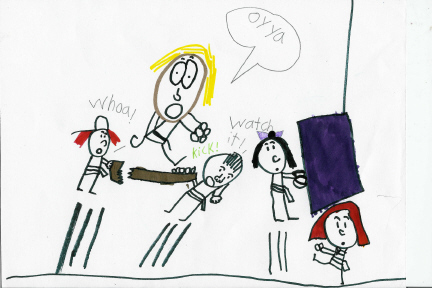 This book is about four kids who meet an angel who does karate. When the bully named Ben dares Eddie to climb up an icy tree. He falls and the angel saves him. I liked the book because the angel could break seven pieces of wood with her bare hand. Read this book to find out more about it.
My favorite part was when the angel broke a piece of wood with her bare foot. It would be neat if we could do that!
The character I liked was Eddie because he was funny. Eddie was a kid who told jokes. I liked the angel because she had a black belt. It think it't strange for an angel to have a black belt in karate!
The illustrations were cool because there was a lot going on in them. The pictures were black and white sketches. I liked them because they had a lot of detail.
I liked reading this book because it was funny. It was funny when Melody was about to hit Eddie with a snowball.
I recommend this book to kids in second and third grade. I think they will like it because it is funny.