Junie B. Jones is Captain Field Day
Written by Barbara Park
Illustrated by Denise Brunks
Reviewed by Nick S. (age 9)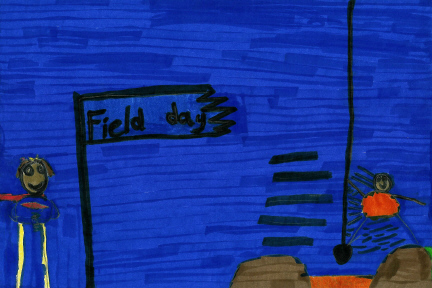 In this book the main character is Junie B. Jones. Junie B. Jones is sort of a funny book. Junie B. Jones got to be field day capt. Her class was facing Room Nine. Every kid in her class was yelling "oh! Pick me!" and stuff like that. The problem is that her team keeps losing. Will they ever win? Read the book to find out.
My favorite part was when Junie B. Jones' team finaly go to do something that they where good at.
This book reminds me of Mr. Field Day. Mr. Field Day is a book about a guy teacher on Field day. He loves field day so much he named himself Mr. Field Day.
This story reminds me of field day we have at school. My team was always losing when I got to the obstacle course. My team won. We almost won the balloon toss.
This book is sort of funny and sort of weird because I don't really like Junie B. Jones. In second grade my teacher just reat it to us.
I recommend this book to kids who like made-up stories or non-fiction stories. This is a good book for second graders, first graders, and some third graders.