Sailing to the Sea
Written by M. C. Helldorfer
Illustrated by Loretta Krupinski
Reviewed by Kelsey S. (age 11)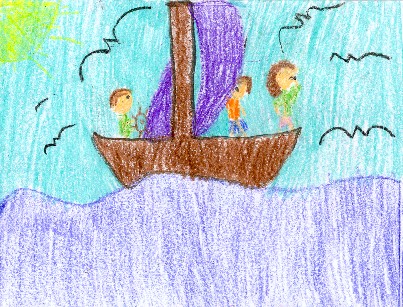 Sailing to the sea is about a little boy, his uncle and aunt. They are sailing to the sea. While the little boy's mom, grandpa, brother and sister are driving, the little boy stops at a big patch of pink flowers. Then they parked and went swimming. After that they had to go to bed. If you want to now what happens next read Sailing to the Sea.
I have never read a book about sailing. This book reminds me of when I watched sail boats sail when I was at the park when I was younger. When they set sail it was beautiful because they used pretty orange and pink colors. The author did a great job of describing the flowers and the sail boats. My favorite character was the little boy because he was adventurous. My favorite scene was when the little boy stopped at the big patch of flowers.
I would recommend this book to a 7 year old. I think a lot of seven year olds should read Sailing to the Sea because it is a very entertaining book. I love the setting of the book. They made the water very detailed.