Hatchet
Written by Gary Paulsen
Reviewed by Timothy D. (age 11)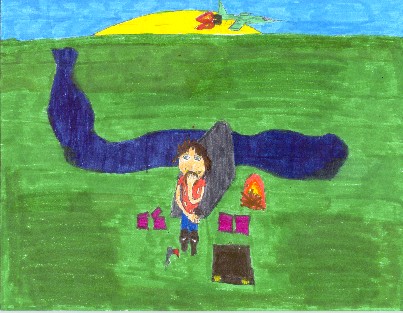 The book, Hatchet is a book that you won't ever want to put down. Brian, with only a hatchet that his mom gave him, tries to master the wilderness after his pilot has a heart attack and dives into the lake. When he got out of the plane, it was floating on the lake. He builds a wooden shelter and makes fire out of wood from the bark of trees. A tornado comes and destroys his shelter. Read Hatchet to find out what happened to Brian next.
My favorite part is when Brian is in the airplane and crashes into the lake because it is exciting. The person that changed is Brian. He changed from scared and unknowing to fierce and one with nature. This book is part of a series. It is similar to the others because he is the main character in each of the other books. When I read this book I felt fearless. It made me wonder if this book is real and will Brian survive alone in the wilderness.
I recommend this book because it is mysterious and unique. The kind of reader that would read this book is a reader that likes excitement. The part that might interest the readers the most is when Brian has to go all the way to the bottom of the lake to get the hatchet to rip open the side of the airplane.