Junie B. Jones Smells Something Fishy
Written by Barbara Park
Illustrated by Denise Brunkus
Reviewed by Alli B. (age 9)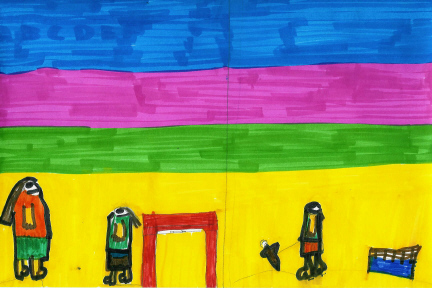 The main characters in this book are Junie B. Jones, her mom, and her teacher. Junie B. had a great morning until her teacher clapped her hands together. She said, "Monday will be Pet Day and you can only bring in a pet in a cage." Junie has a dog, but can't bring it in.
Her grandma says that she's going fishing and Junie B. wants to come but can't. She says, "Grandma, can I come? I got a fishing net!"
There is also a crumby raccoon in her yard. She wants to catch it, but she can't.
The next morning she was up very gloomy. At breakfast her dad asks her, "what do you want to drink?" Junie says, "orange juice". They all looked over in the fridge and found an amazing surprise!
My favorite part was when Junie B. had no pets for Pet Day. I also liked it when she said to her grandma, "I don't like your dumb bird." I thought it was funny. Grandma Miller looked surprised. She thought Junie B. liked the bird.
This is kind of like Junie B. Jones and a Little Monkey Business. In both books, she is wild and is a little bit of a show off.
This story reminds me of myself! When I was in kindergarten I would show off a lot and act like Junie B. I was funny like her and drove my teacher and mom crazy.
I recommend this book to first, second, and third graders. I think they would laugh aloud. This is a good book for anyone who likes funny books! This may be a little challenging for first graders. I think anyone who is a show off may like this book too.