Harry Potter and the Prisoner of Azkaban
Written by J.K. Rowling
Illustrated by Mary Grandpre
Reviewed by Zach A. (age 9)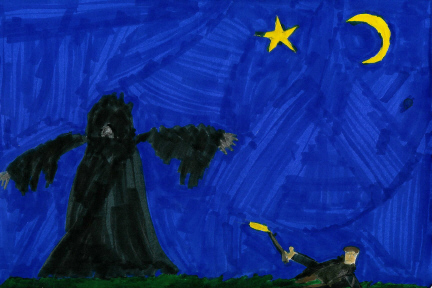 This is a book that has a lot of adventure in it. There is a wizard named Harry. At first, he did not know that he was a wizard. One time, his friend's brothers, Fred and George, gave him a map that he used while wearing his invisible cloak to sneak down to a village and play tricks on a mean kid called Malfoy.
That is not his only problem. A wizard named Voldemort, killed his parents. Sirius Black was a prisoner at Azkaban Prison. Then, he broke out. Harry thinks that he is trying to kill him. You will have to read the book to find out what happens next!
When I read this book, I thought it was fascinating because it is about a world that is made-up. Life in the made-up world is different than life in the real world. They have different candy and they cast spells.
My favorite part was when Harry went back in time and fought the death eaters and dementors. He cast a spell called a "patronos". He destroyed the dementors. I thought this part was exciting because there was a lot of adventure.
I really like Harry Potter because he is funny, talented, adventurous, and smart. Once, he stopped a werewolf from attacking him in the forest. Harry shows that he is smart when he stopped Peeves the poltergeist from teasing him.
I recommend this book to students in fourth grade and above. I would also recommend this book for readers who like adventure and action, plus laughs!