The Capture
Written by Kathryn Lasky
Reviewed by Kate S. (age 10)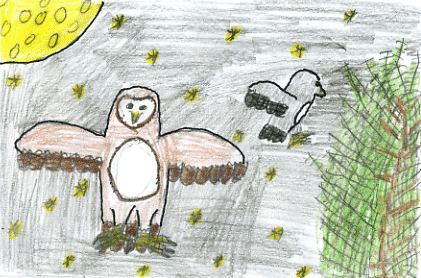 The Capture is the first book in a series of six, so far. It is about a young barn owl named Soren living in a hollow with two caring parents, a brother, and a sister. Soren's brother Kludd shoves him from the nest and Soren is captured by the evil St. Aggie's Academy of orphaned owls. While he is there, he discovers that it is not really an academy, but a plot to take over all the owl kingdoms on Earth. Also, Soren meets a young elf owl named Gylfie who thinks the barn owl is extraordinary. They manage to escape being moonblinked, which is what St. Aggie's does. They make the young owls sleep under the full shine of the moon, which destroys their will and confuses their brains so they must obey orders. Soren and Gylfie manage to escape moonblinking because they tell tales of the Great GaHoole Tree where owls always do good deeds. But how long can they keep that up? In their adventures they find an abandoned burrowing owl named Digger and a large and ferocious great grey owl named Twilight. But will they ever escape St Aggie's? And if they do, will they ever make it to the Great GaHoole Tree? Did it even exist? Read this book to find out what happens to the owlets in their adventures!
What I really like about this book is the character of Gylfie. Gylfie is a small elf owl and she is adventurous and comes up with a lot of good ideas. For example, she was the one who figured out how to stop moonblinking. She is the only girl in her group of owls and she kind of keeps them together and stops them from fighting. This book is full of adventure and exciting mystery. For instance, the characters had to learn to fly to escape from the orphanage at St. Aggie's. The book uses a lot of suspense and you never want to put it down. It was exciting when Soren and Gylfie realize that St. Aggie's was planning evil deeds for them! I have read all the books in this series and, in my opinion, each books gets better and better. The fantasy in each adventure is enjoyable for me.
I recommend this book to people who like adventure books and who like a lot of excitement. If wild fantasy is what you like, this book is great. It is a really good story!