Fever 1793
Written by Laurie Halse Anderson
Reviewed by Kari R (age 11)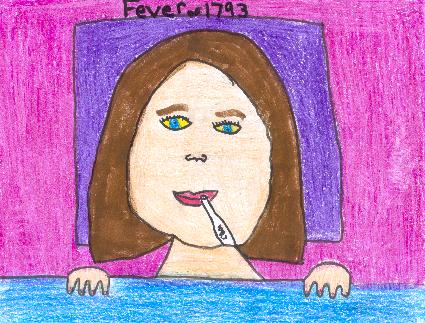 Fever is a book about a little girl named Mattie Cook. Her servant, Polly, died, which leads to a fever called, Yellow fever. Mattie's mother soon catches the fever and tells Mattie and her grandfather to go to the country. When they get to a marking point, guards say that grandfather can't go any further. Mattie faints from being outside waiting for her grandfather to get better and wakes up in a children's hospital. If you want to know the rest, read the book.
I thought this book was the best book I had ever read because Mattie is a girl attempting to do anything to help. My favorite part was when Mattie was waiting for her grandfather to get better and Mattie discovers a spring water stream flowing in a creek. This is sort of like Esperanza Rising because when Mattie's family becomes sick she has to take care of them. Esperanza has to take care of two babies while her mother was sick with dust in her lungs. I found Mattie's grandfather interesting because he let her do everything her mother didn't let her do.
If you like interesting yet sad stories, you should read Fever 1793. I recommend this book for ages 10-13 because it is an exciting story about a killing fever. I think you would enjoy the beginning when she finds out her servant Polly is dead. If you are interested in this you will be interested in the book.