Frankenstein
Written by Mary Shelly
Illustrated by Pablo Marcos Studios
Reviewed by Hunter O. (age 10)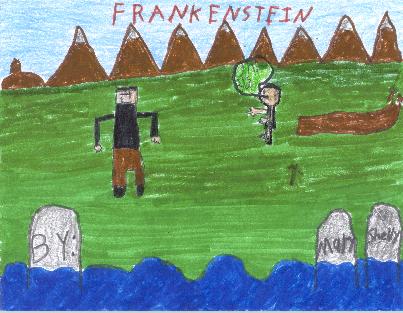 This book is about a man named Victor. Victor creates a monster and is afraid he will harm him. Victor runs out the door and never returns. One day Victor sees his old friend Henry. Henry asks to see his apartment. While they were walking to his apartment, Victor started wondering if the monster was still there. Later the monster wants revenge and he saw William, Victor's brother, running through the forest. He thought William was running towards him thinking he wants to be his friend. The monster asked William what his name was. William responded "William Frankenstein." The monster new he was a family member so he killed him. Later Victor and the monster came face to face in the mountains. Victor followed the monster to a hut on a hill. The monster tells Victor his story. You will have to read the book to find out what happens.
Frankenstein is in a series called the Great Illustrated Classics. I don't think Frankenstein is like the other books because it is a book where you get hooked in the second chapter. I found Victor interesting because he likes science and I do to. The monster reminds me of myself. He is like me because I destroy everything and I freak people out all the time. My favorite part in the book is when the monster tells his story. I like this part because he tells his feelings and he explains why he killed William and other people. I loved the book, because it told me that you can like something at one time and then later you don't.
I recommend this book because it is sad, mysterious, and disgusting. I think ages eight through twelve would like this book. I think people would like it when Victor begins to tell his story.