Welcome to Dead House
Written by R. L. Stine
Reviewed by Brianna C. (age 11)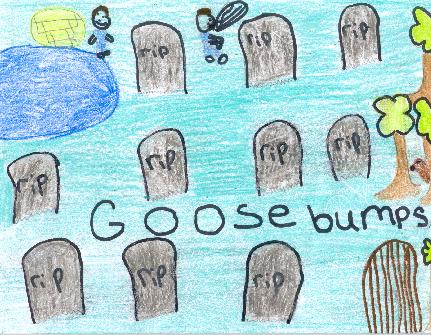 This book is about Josh and his sister Amanda who are moving into a new mansion. They find a friend named Ron. He is real nice a first, but things turn ugly. They find out about a big horror in their house. That makes them scared to go home. One night with no moon, their parents were at a party and they were in a cemetery. When they went home the lights wouldn't turn on; it was pitch black. To find out what happens next read the book. It will just scare you.
In this book the dog always runs away. It reminds me of my dog. Also when my brothers beat me up its like Amanda and Josh are taking the place of my brothers and me. As I was reading this book it scared me quite a bit but sometimes it made me cry or laugh. If you want a book that will scare you a lot then read Goosebumps Welcome To Dead House. My opinion is that it is the best book in the world, its probably going to be the same to you.
I recommend this book to ages 10-12 because that is the ages that like mysteries. If you are a patient reader I would recommend this book for you to read. You might be quite frightened but frightening things are in the best mysteries.