Redwall
Written by Brian Jaques
Illustrated by Gary Chalk
Reviewed by Ted T. (age 11)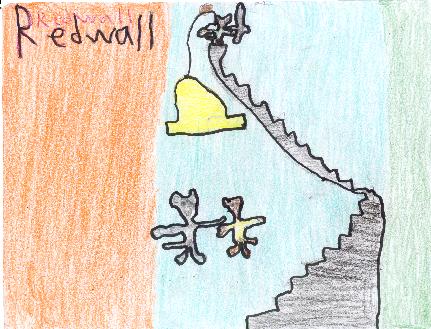 This book is about a mouse named Matthais who at first always seems to mess up every time there is a chance to. But when the rat, Cluny, threatens to do anything to take over Redwall Abbey, Matthais wants to find the legendary sword of Martin the warrior. After someone steals the sacred tapestry, Matthais and his old friend, Methuselah, start finding clues to where the sword of Martin the Warrior is located. They are disappointed when they don't find the sword. To learn what happens next read the book.
I think the book was great because of the details. My favorite part was when Cluny was crushed under the Joseph Bell because that explains why Cluny woke up when the Joseph Bell rang. Matthais changed when Cluny vowed to take over Redwall Abbey. This book is similar to other books in the series because it includes the defeat of an evil creature.
I recommend this book because this book has an interesting scenario. I think that people who like adventure books will like this one. I think that the best part about this book is it's plot because it can't be predicted.