The Mouse and the Motorcycle
Written by Beverly Cleary
Illustrated by Louis Darling
Reviewed by Kayla B. (age 11)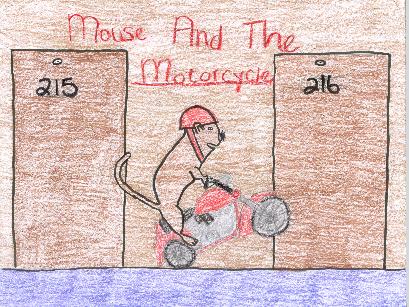 The Mouse and the Motorcycle is about a family that stays at a hotel. In their room lives a family of mice. One day the family goes to eat in the diner downstairs. While they are doing that the mice look around in the room. One mouse, Ralph, finds a toy motorcycle and falls in love with it. So, he tries to get up there. He has to climb up a telephone cord up onto a table. While he's trying to do that he falls in the trashcan. Then the family walks in. The mother walks up to the trashcan to take it out. If you want to know what happens next read the book.
I think Mouse and the Motorcycle is a very exciting and well-written book. This book is a very good book because the characters are hilarious and the book is full of great adventures. My favorite part was when the mouse found the motorcycle and took it on a joy ride. I like the mouse and the little boy because the mouse is adventurous and the little boy loves to sleep. The mouse is cool because he isn't scared to ride in the hall where cats live. Also because it's pitch black out in the hallway and the boy isn't even watching him. There are great illustrations. There are all types of illustrations like the mouse and the motorcycle in the hallway. They are very good illustrations except they are black and white.
I think you should read this book because it is full of excitement and adventures. I would recommend this book for 8 to 11 year old kids because I am 11 and I thought it was great, so maybe you will too. I think you will like the characters. They are very funny like Ralph the mouse, Keith the boy, and their families. I think you would like the story because the author writes with a lot of details.