Robinson Crusoe
Written by Daniel DeFoe
Illustrated by Lynd Ward
Reviewed by Tyler C. (age 10)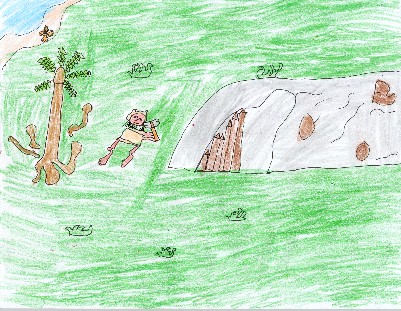 This is an Illustrated Classics about Robinson Crusoe. He is a man that has been shipwrecked on an unknown, untamed island. He builds his house and all his tools. He finds a man about to be eaten by cannibals, and the man is loyal to him forever. Do they finally get back to civilization? You have to read to find out.
I think this book is fantastic because it was adventurous, thrilling, and some parts gruesome. My favorite part was when Crusoe saved a man from being eaten by cannibals. I think this book is so unique because so many things happen on just one island. I?ve read another book similar to this because it?s about a family who gets shipwrecked, and they build their house and supplies.
I recommend this book because it is electrifying, impelling , sensational, even though some parts may be disgusting. If you like the Illustrated Classics and adventure books, you?ll like this. You might think a person on a remote island is interesting, or the fact that cannibals exist might be what you like. That is why I recommend this book.