Holes
Written by Louis Sachar
Reviewed by Joshua H. (age 11)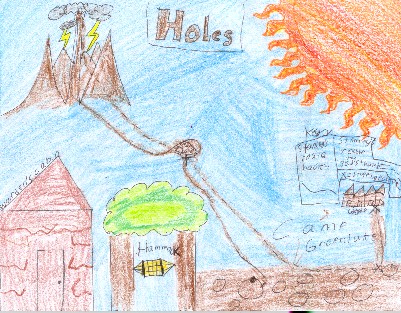 Holes, by Louis Sachar, is a book that tells about eleven juvenile delinquents in a juvenile delinquent camp. The counselors are actually outlaws, but you can figure that out when you read the book. There are two main characters whose ancestors date back to India in the same town! They are Stanley Yelnats and Hector Zeroni. The judge thinks Stanley stole Clyde Livingston?s sweetfeet shoes when it was Hector who did it accidentally! The camp they are both sent to is called Camp Greenlake, but it has no lake! The warden and the counselors are looking for treasure, but they don?t tell the kids.
I think Holes is a wonderful book because it has tons of steps leading up to the chase, or point. My favorite part is when Stanley and Hector dig up the treasure because the warden says it is hers, but it has Stanley?s name on it! There weren?t any really interesting characters, but when they joined up, it made a pretty strong gang! Stanley is a lot like me because he always seems to be in the wrong place at the wrong time! (sometimes.)
I recommend this book to patient readers. It is not as long as Harry Potter or Lord of the Rings, but it is long enough to test your patience! However, if you really want to read it, you will find lots of excitement and storyline. Louis Sachar should write a sequel, but the first one is good enough for me! There are tons of parts that are full of suspense, violence, sadness, madness, happiness, and much, much, more! Basically, Louis Sachar is trying to entertain you with a delightful children?s book that tells about Stanley Yelnats and his friend. This book really brought out my emotions, and it will do the same for you! I never put this book down, and if you read it you will never put it down!