Hank the Cowdog: The Case of the One-eyed Killer Stud Horse
Written by John R. Erickson
Illustrated by Gerald L. Holmes
Reviewed by Brianna D. (age 11)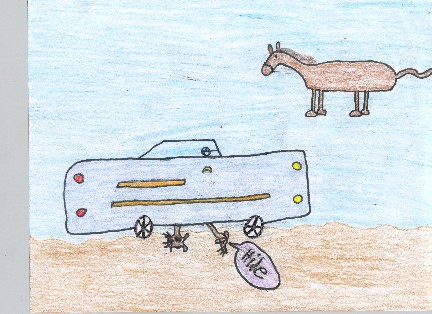 Mysterious things are happening to Harry Potter like he is seeing out of Voldemort's eyes. "The one who must not be named" makes Harry sweat and scream in the night because Voldemort is in his dreams. Harry Potter is seeing a door at the Ministry of Magic and wants to get farther. Snape, the Potion's teacher, tries to help, but Harry gets into trouble and is kicked out. The Defense Against the Dark Arts teacher as well as the High Inquisitor of Hogwarts and the headmistress of the school, also known as Professor Umbridge, is a slick, mean lady, who replaces Mad Eye Moody and is a threat to Harry Potter. Will Harry ever be happy again after the surprising death? Will Harry want to come back to Hogwarts ever again? Will he survive Lord Voldemort? To find out Harry's fate read the novel, Harry Potter and the Order of the Phoenix, a novel you won't want to put down!
This book makes me feel rather down in the dumps compared to the other Harry Potter books. It is very different compared to the other novels of Harry Potter because in the other books he's happy, and he wins things, and is the champ, the day saver. In this book, everything is taken away from him, and he is sad and mad all the time. Harry Potter has changed so much this year because in the first four years he was always kind, but in this book he is always in detention or yelling at Sirius Black or his friends. This book is like being depressed because of too much going on like for me things with school, softball, gymnastics, my grades, and everything else. This book is not my favorite nor least favorite book of the series, but it's worthy of your time of reading it!
I recommend this book to ages eight and up because anyone who can read or has seen these movies will love the book even more. So yes, I do recommend this book to people who have ever been bored and just needed something to do because it is full of excitement and wonder. So read this book, Harry Potter and the Order of the Phoenix, a breathtaking novel you'll love!