Manana Iguana
Written by Ann Whitford Paul
Illustrated by Ethan Long
Reviewed by Kunaal M. (age 7)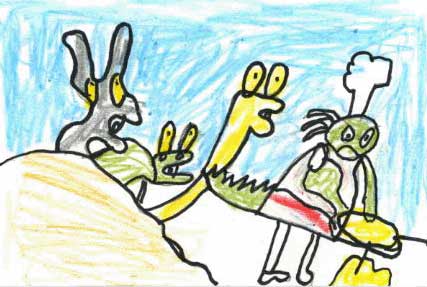 There is an Iguana and a Rabbit named Conejo. There is also a tortoise and a snake. Iguana wants to celebrate spring with a party. Everyone agrees but no one wants to help with the invitations. Conejo's excuse was I write too fast. Turtle couldn't because he writes too slow. Snake can't unless he grows arms tonight if he does he will help tomorrow. Next Iguana wants help delivering the invitations, decorating, and making the food but no one can help. When the party begins everyone wants to welcome the guests but Iguana says she did every thing else so she will do that too. After the party Iguana is too tired to clean up so everyone decides to surprise her and clean up. They all eat the leftovers the next day.
I liked this story because I liked the chicken and the dog and learning their Spanish names. I liked learning lots of new Spanish words through out the whole story. I also like the pictures because they were colorful and looked liked cartoons.
This story would be good for parents who want to learn Spanish. It would be hard for anyone who is six or seven because the Spanish words are hard to pronounce.