The One in the Middle Is the Green Kangaroo
Written by Judy Blume
Illustrated by Irene Trivas
Reviewed by Adrian M. (age 10)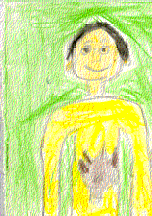 The story I read is called The One in the Middle is the Green Kangaroo. It is a really good book. It is really funny, too. What it is about is a kid named Freddy that has a mean brother and a sister that whines a lot. One day when Freddy went to go play with his big brother and his friends. They bullied him and pushed him over. Then one day Freddy joined in the fifth and sixth grade play and he got a speaking part in the play. When the play started he was a little scared. Find out more when you read the book.
My big brother is just like Freddy?s big brother as my brother bosses me around. My favorite part was the play because I think the costumes and the names are funny. By reading this book, you might learn how Freddy got his brother to be nice to him. The illustrations look like a slide show and it makes it entertaining.
I recommend that kids with big, mean brothers and those who like plays might look at this book. The author, Judy Blume, writes funky words but you can still understand the story.