Captain Underpants
Written by Dave Pilkey
Reviewed by Charles S. (age 8)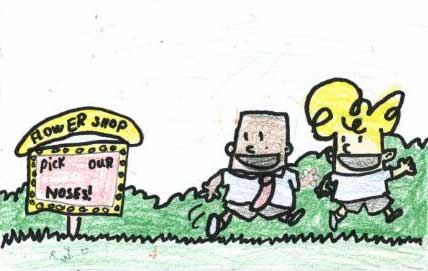 Meet George Beard and Harold Hutchins. They are best friends and live next door to each other. They are in the fourth grade at Jerome Horwitz Elementary. Their principal is Mr. Krupp. George and Harold were usually responsible kids. In fact, whenever anything bad happens George and Harold are usually responsible. George has a tree house in his back yard and they like to make comic books there. George and Harold's best comic superhero yet was the Amazing Captain Underpants. Mr. Krupp was mean to the boys and hated their Captain Underpants comic books. This book is the story of how George and Harold got into so much trouble. There was a big football game between the Horwitz Knuckleheads and the Stubinville Stinkbugs. The cheerleaders started to cheer and then began sneezing. Someone had put pepper in their pompoms. When the band started to play there were bubbles everywhere. Finally the game started but when the ball was kicked it floated in the air because it was full of helium. I wonder who did that? Soon George and Harold were called to the principals office where Mr. Krupp had caught them on video tape doing all these things. He said he was going to give the tape to the football team and the boys promised they would do anything if he didn't. In fact for the next four to six weeks they did everything Mr. Krupp told them to do. Until they got the idea that they could get the 3D Hitmoe-Ring and make Mr. Krupp do everything they said. They made him do crazy things and then he even flew out the window. The boys went after him and rescued him before the cops arrested him. The adventure really begins when they meet Mr. Diaper and the robots who want to blow up the moon and destroy the earth. The story ends with George and Harold getting the tape back from Mr. Krupp and even getting the football team to change their names to the Purple Dragons.
I liked this book because it was a comic book and it is funny. I like it because you never know what's going to happen next even on the very next page things change. I didn't like it because it was a long book to read and that took a while.
First through third grade would like the cartoons because they are funny. They may also learn not to mess with the principal.