Ramona the Pest
Written by Beverly Cleary
Illustrated by Louis Darling
Reviewed by McKenzie J. (age 8)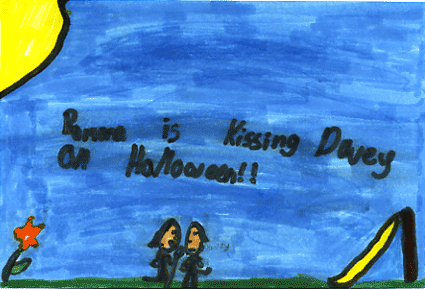 Ramona Quimby was five years old. She was a pest. She tried to kiss Davy on Halloween. She thought a Donzer Lee Light was a lamp, but it wasn't, so Beezus, her sister, was laughing because she was wrong. Ramona said, "No" to the teacher when her teacher asked to to stop bothering Susan because she didn't want to stop Boinging Susan's curls. SHE WAS A KINDERGARTEN DROP OUT!
I like this storybook very much because it was funny. When she tried to kiss Davy on Halloween, she said she was the "baddest witch in the world!" My favorite part was when she slammed her shoes against the wall when she was crabby. I was shocked that she did that! Sometimes I might try that when I 'm mad. Ramona reminds me of my little sister and brother. My brother takes my food, and my sister reminds me of Ramona because she is a pest, too. She always bugs me!!
I recommend this book because it is very funny! You will laugh if you read it. I think that older kids ages eight and up can read it on their own.