Because of Winn Dixie
Written by Kate DiCamillo
Reviewed by Jeremy P (age 10)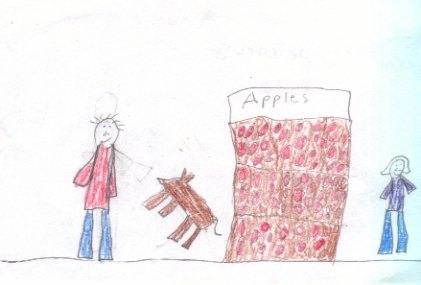 India Opal Buloni goes to the store to get a box of macaroni-and-cheese, some white rice, and two tomatoes. She came back with a dog. She was in the produce section and she almost bumped into the store manager. He was all red-faced and screaming. He was shouting "Who let that dog in here?" All the employes were running around and trying to catch the dog. He was a big, ugly dog. The dog came running to Opal and smiled at her. The dog stood on his back legs and pushed the manager over. The manager said to call the dog pound, but then India Opal said it was her dog. She named the dog, Winn Dixie. You could see his ribs and there were bald spots all over him.
Her dad is a preacher at Open Arms Baptist Church in Naomi. She lived in an adult trailer park so they had to be quiet. India Opal went into the house and told the preacher that she found a dog at the store. The preacher said she could keep him. After Opal gave Winn Dixie his bath she asked her dad to tell her ten things about her mom. One for each year she was alive. After the preacher told her the ten things she went to her room and wrote them down on a piece of paper. She looked at them until she knew them by heart. Winn Dixie could not be left alone. If they would leave and go somewhere Winn Dixie would take off the couch cushions and all the toilet paper off the roll. They tried tying him to the tree when they left but that did not work either. Then he started howling. They would bring Winn Dixie to the church. That summer Opal went to the Herman W. Block Memorial Library a lot. It sounds like a fancy place but it isn't. Winn Dixie did not come in the library instead he stood up by the window and looked at Opal. Miss Franny, the librarian, thought it was a bear. Then Miss Franny told Opal about the story of the bear. They were walking past the woods and Winn Dixie ran into the woods and Opal chased after him. When she got back there Gloria Dump was giving Winn Dixie a peanut butter sandwich. So whenever they go back there they get a peanut butter sandwich.
A few days later Opal went to a pet store to get a leash but she could not pay for it. So she asked Otis, one of the workers, if she could work there and he said yes. She cleaned up the shelves and swept the floor. One day when she came to work Otis had all the animals out of their cages and he was playing his guitar and all the animals were still. When he stopped playing all the animals started running around. Then Opal and Otis ran around and put them back in their cages.
Then one day when Opal went to Miss Franny's house for a party. They invited all the neighbors. When they had the party it started to rain. Then Opal was bringing stuff in the house she forgot about Winn Dixie and they could not find him anywhere. If you want to find out if they find Winn Dixie or not read the book.
My favorite part was when she found Winn Dixie. It was funny when Winn Dixie jumped on the store manager. Winn Dixie changed in the story because he was all smelly and had bald spots on him. Then he grew fur over the bald spots. It reminds me of when I got my two puppies. I had to take care of them.
I recommend this book to people who like dogs that do funny things. If you like dogs and funny stories read Because of Winn Dixie.