Charlie and the Great Glass Elevator
Written by Roald Dahl
Illustrated by Joseph Schindlman
Reviewed by Todd E (age 9)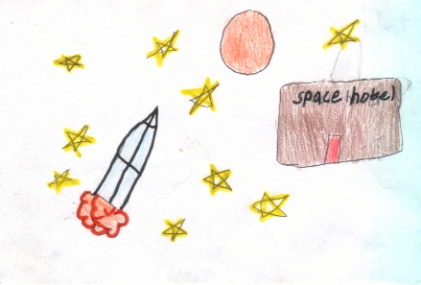 Charlie And The Great Glass Elevator is a funny and and very good story. Willy Wonka is the owner of a chocolate factory. He took Charlie and his family in a glass elevator. They were trying to find the U.S.A.'s space hotel. Once they found it, there were worm like looking things called vermicoious knids, a very weird animal. They were all very scared. They decided to go back to the chocolate factory. When they were celebrating getting back on earth, Willy Wonka made pills to make people twenty years younger. So all the Charles relatives were crawling around like babies. After a while Charlie said to Willy Wonka, "This is very boring watching all the babies" So Willy Wonka made pills that make you twenty years older. Grandma Georgina took way too many of them, so in the end she remembered that she rode on the MAYFLOWER! Willy Wonka did the adding and she turned out to be 358 years old! They were all very stunned. If you want to find out if she got younger or not, read the book. My favorite part of the book was when they got invited to the White House. The only thing that is bad, is that the Grandpas and Grandmas have not stepped one foot out of their bed in 20 years. So they had to make a decision. They chose to go to the White House to the party. They got out of their bed and ran as fast as lightning. Then in a flash Grandpa George skid 5 yards before coming to a stop. They all forgot one little thing. They were still in there pajamas.They haven't changed clothes for 20 years. They had to go to the store to get better looking clothes.
This book is part of a series from Roald Dahl. If you have ever read Willy Wonka And The Chocolate Factory you will like this book. It has the same characters. Roald Dahl has written other books too. I think this one is the funniest one. He has written other to books like, James and the Giant Peach, Matilda, and The BFG. He is a very good author. I like the pictures because they helped make the story more understandable. They are in black and white. The illustrator is Quentin Blake. He is a good illustrator. This book made me wonder what would happen if this really did happen in real life. If it would happen I would be very amazed. People would probably laugh.
I recommend this book to someone who likes weird and funny books. The pills that could make people older and younger were just plain weird. Someone that likes funny fiction books will like this book. It has a lot of imagination. Someone that likes funny fiction books will like this book.