Because of Winn Dixie
Written by Kate DiCamillo
Reviewed by Mary K (age 9)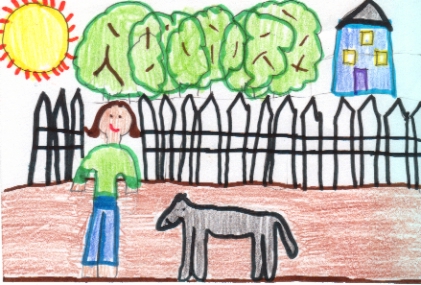 Winn-Dixie was a stray dog. Opal found him at the Winn-Dixie grocery store when she was getting some macaroni, white rice and 2 tomatoes. Opal all most bumped into the manager. The manager was screaming at the dog. The dog came around the corner and looked up at Opal and smiled at her. That was the first time Opal saw a dog smile. The manager wanted to call the pound for the dog. Opal said, That it was her dog. Opal wondered what her dad was going to say about the dog. He said they could keep him. Opal was so excited! She gave him a bath and fed him. Opal ask her dad to tell her ten things about her mom. Ten things for how many years she been alive. Opal did not know her mom and wanted her dad to tell her about her. He did tell her ten things about Opal's mom. Opal and Winn-Dixie made many friends. That summer Winn-Dixie Opal met Otis. At the Gertrude's Pet Store. Opal went there to get some things for Winn-Dixie, and Opal didn't have enough money. Opal ask Otis if she come work to pay for it. That was a start of a good friendship.
My favorite part of the book is when Opal meets Winn-Dixie and when Winn-Dixie smiles at people. Opal reminds me of myself because she likes to have adventures and so do I like to make friends and so dose Opal. Winn-Dixie reminds me of my dog. They both like to run around and play, my dog likes to be by people and so dose Winn-Dixie.
I recommend this book for dog lovers of all ages because it is easy to read. It is an enjoyable book that teaches a lesson on friendship.