Hank the Cowdog: Faded Love
Written by John R. Erickson
Illustrated by Gerald L. Holmes
Reviewed by Kyle M (age 9)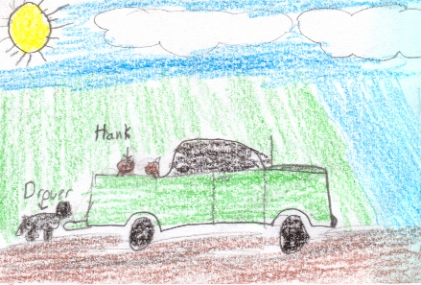 Hank would do just about anything to spend time with his girlfriend Beulah. On one day, Hank and his best friend Drover, were on their way to Beulah's ranch. While they were on their way they saw a man in a truck. They hid in a ditch so he can not see them. The man stopped right next to them. Hank recognized the man. Hank saw Miss Scamper in the back of the truck. He jumped up there and talked with her. Drover jumped up there too. When the owner of the truck came back, Drover jumped off and Hank stayed on. The man pulled Hank's ear and threw him off. They started walking through the woods. Two coyotes followed them. Hank looked back and saw them. Then Hank and Drover can run away. They smelled something dead. Two birds were eating dead skunk. The two coyotes scared the birds away and started eating it. Then the coyotes told Hank about their secret love potion. Hank asked what he had to do to make it work. They said you had to roll in a dead animal. Hank rolled around in the dead skunk. Hank went up where Miss Scamper lived. Hank said "Hi" to Miss Scamper. Miss Scamper said "something stinks." Miss Scamper went up wind so it would not smell, but Hank followed her. They talked and Hank left very sad. On their way they saw a little boy named Alfred next to a rattle snake. Hank started to run at the snake. He ran past the snake. The snake bit him in the ear. Hank grabbed the snake and swung it back and forth really hard. He fell in to a coma. The vet came and took the poison out of Hank's ear. Hank woke up. He survived a massive dose of poison that was in him. Hank got to see Miss Scamper but he did not get to live with her. Hank kept on being a cow dog with Drover.
I thought this book was real good. This is the kind of book I like to read. I liked how the author made the dogs seem like real people. They had the same problems, people have.
My favorite part in the story is when Hank saved little Alfred from the rattle snake. I liked that part because it showed Hank's bravery.
I found Hank interesting because he is brave, he does amazing stunts, and he has a lot of energy.
I recommend this book because I like dogs, I like books that have a bad thing turn in to a good thing, I like dog books, I like books about a brave dog and a not so brave dog.
If you like dogs and some of the things I like you should read this book.
I think when Hank saves little Alfred, when he fakes is death, when he survives the snake bite might interest the reader.