Boogie Bones
Written by Elizabeth Loredo
Illustrated by Kevin Hawkes
Reviewed by J.D.H. (age 8)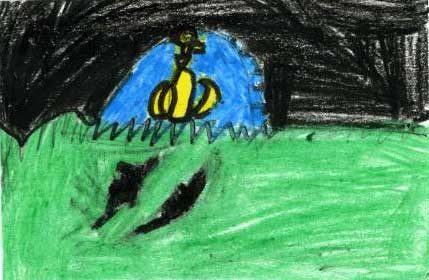 Boogie Bones is a skeleton and loves to dance. He goes to the town hall all dressed up so no one knows he's a skeleton. At first he is shy and hides. But when a dance called a Tango starts he can't help himself. Boogie starts dancing around the room and when he dances faster and faster he looses his costume. Everyone is afraid to dance with him except the little girl because he is a skeleton. They enter the contest and win for being the dancers.
I like this book because the girl wasn't afraid of Boogie Bones. I also like this story because the pictures were really funny and made me laugh especially when Boogie started dancing and lost his disguise. I liked this book because I really like music and love to dance too.
I recommend anyone in second grade read this funny book. I also think it would be fun to read during Halloween.