Alphabet Mystery
Written by Audrey Wood
Illustrated by Bruce Wood
Reviewed by Megha P. (age 7)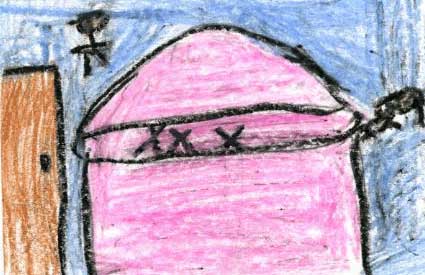 Every night the letters tuck themselves into bed. Just for fun the letters say their names out loud. One night a little letter doesn't say its name. Who could it be? Little x is missing decided little a. Little x took a pencil and just flew away. But why? So this is the mystery and they all jumped on a pencil and took off. They zoomed over cities and towns just to find little x. They stopped at a castle and when they landed a heavy door creaked open. Captial I was there and wanted to know who was visiting the castle. Brave little b spoke up and said they were trying to solve the mystery of the missing little x. They tiptoed into the next room of the castle and found little x asleep. They wanted to rescue x but he didn't want to be rescued. Giant M gave them chicken soup and then burst out crying and gave them each a little going away gift. Just as the sun was setting they all flew away on the pencil and went home. When they got home Charlie wanted to use little x on his moms cake.
I like this story because it reminds me of the alphabet. I also liked it because it was a mystery. I also like the very colorful pictures.
I think anyone could read this book because it is very good and easy to read. It would also be good for moms and dads who want to teach their children their A-B-C's.