Junie B. Jones
Written by Barbara Park
Illustrated by Denise Burks
Reviewed by Garrett N (age 8)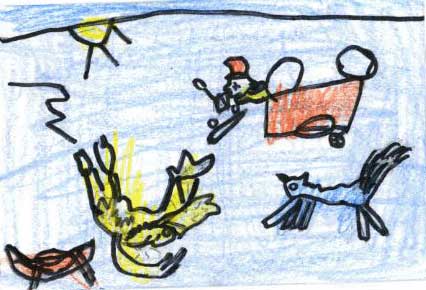 At first Junie B. Jones thinks Halloween is scary. Her classf inds out that she is scared of Halloween and they all laugh. Junie B. goes home and knows she has to buy a costume at the Halloween store. She is scared of the costumes because they are scary masks. she pretends to accidently take a nap and really falls asleep. Her mom comes home and finds her in bed. Junie B. decides she wants to be squirty the Clown, but she wasn't able to because there weren't any clown suits left at the store. she finally decides to be Screamy Clown. Junie B. screams all the time even when she is trick or treating. She gets lots of candy and even scares her dad because she forgot to take off her make-up. She tells dad she's sorry and calls herself Smudgy when the clown make-up starts to run. Junie B. decides to keep all the candy and give mom the apples and dad the raisins. Her dad says thanks and tells Junie B. she scared the pants off him.
I like this story because it was funny especially when Junie B. went out trick or treating and was screaming at everybody. I also like the story because it could really happen. I think it would be fun to try to be like Screamy the Clown, but I think it would drive my parents crazy.
Students in grades one through five who are good readers could read this story because they would find it very funny. It might also be fun to read during Halloween.