Captain Underpants
Written by Dave Pilkey
Reviewed by Jacob K (age 8)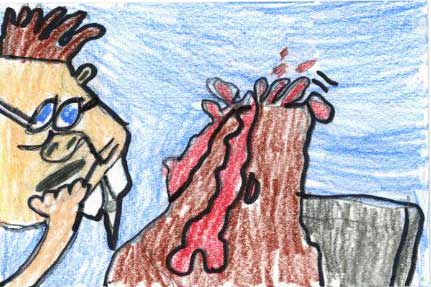 A super hero in underpants named Captain Underpants works with George and Harold to stop the evil lunch ladies when they pour trash in the lunch stew. The Janitor accidently locks them in the school for the weekend. The ladies eat the icky food and that's the end of them. Not really, they turn into mummies. Eventually the whole school turns into mummies except for George, Harold, and Captain Underpants. Even after they hit the mummies with rolling pins the lunch ladies still plan to take over the earth. They have one adventure after another, they escape with the toilet paper of justice, meet the Dandelion of Doom, and even Captain Underpants gets eaten but is saved by drinking Extra Strength super power juice. Finally Harold's famous root beer is mixed with anti-evil zombie nerd juice and everyone is saved and the mummies are gone for good.
I liked this story because it is funny especially when they turn the principal into Captain Underpants. I think it's funny too because I've never seen a superhero in underpants. I also like the story because it is a chapter book and takes a while to read.
I recommend that anyone in second grade or older should be able to read this book. You have to be a good reader because it is a chapter book and takes a while to read.