Spiderwick- The Seeing Stone
Written by Tony Diterlizzi
Reviewed by Alex H. (age 10)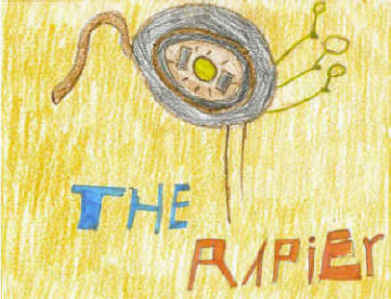 This is the second book about Jarod and Simon, identical twin brothers and their older sister Mallory. They all live at Spidewick Estates with their mother. Their house has a secret library that used to belong to their great-great uncle Arthur. A pencil-sized talking rodent named Thimbletack and his two pet mice live in the library. Jarred and Mallory found a strange eyepiece called the ?rapier? up in the library. They used the eyepiece to kill goblins traveling in roving bands looking for trouble. In the end, they try to rescue Jarred.
The lesson to be learned in this story is to always trust your family. I thought it was a good book because it was a fairy tale adventure with lots of strange creatures. My favorite part was when Simon almost got eaten by the goblet. I liked this part because it was thrilling. The book is illustrated with pencil sketches. I like that they are black and white because they are more creepy that way. The book reminds me of the Harry Potter books because they both have magical creatures in them.
I recommend this book because it has a happy ending. This is a good book for those who like adventures.