Mister Putter and Tabby Catch a Cold
Written by Cynthia Rylant
Illustrated by Arthur Howard
Reviewed by Emmaly B. (age 8)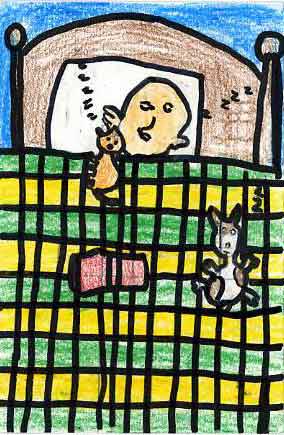 One day it was snowing and Mr. Putter loves the snow. Snow makes him feel cozy. Mr. Putter made warm tea and warm muffins and lit a fire. He went outside and forgot his hat because he wanted to read the funnies so much. He came inside and told Tabby his cat he was worried because he forgot his hat and might catch a cold. Tabby, being a good friend sat on Mr. Putter's head to keep him warm, but he caught a cold anyway. The very next day he was sneezing and coughing and blowing and he felt miserable. Mr. Putter told Tabby a story of when he was a little boy and how he didn't mind having a cold because his mom would spoil him. She would make soup, minty tea, and get him an adventure book. But now there wasn't anyone to spoil Mr. Putter. Suddenly his phone wrang and it was Mrs. Teaberry his very good friend and neighbor. She wanted to come right over because he was sick, but Mr. Putter said, "No". She might catch a cold and he would feel terrible. Soon Tabby began to rub Mr. Putters face and Mrs. Teaberry sent her dog Zeke. Strapped to his back was a thermos of chicken soup and a mystery book. Mr. Putter was going to be just fine.
I like this story because it is funny especially when Mr. Putter says, "I'm old with a cold". I also like the characters and the way they help each other. I think this story could really happen in real life.
I think any age could read this book because it is fun and easy to read. It would be a good book to read on a snowy day or when you were sick. I hope you decide to read it.