I Can Read About Sharks
Written by C. J. Naden
Illustrated by Herb Mott
Reviewed by Daniel N. (age 8)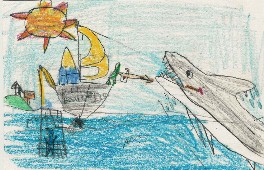 The story is about sharks. The shark that gives me ?scares? is Jaws. The shark that I like is the Bullshark. In the middle of the story when Jaws appears and attacks ! In the end, he swims away. The book describes various sharks.
My favorite part of the story is when the Tiger Shark attacks the seal. I like it because you can see the shark?s teeth. Jaws is my favorite character because he is big and he has big teeth. It relates to my life because I like sharks and so does the rest of my family. The story has pictures and it helps tell the story. The pictures show what sharks look like.
I think others should read this story because it has cool pictures. Others can learn about sharks too.