"Here I am", said Smedley
Written by Simon Buttock
Illustrated by Martin and Ann Chatterton
Reviewed by Daniel H. (age 8)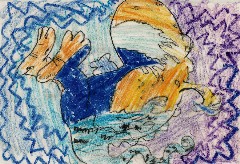 I would like to talk about a chameleon who is shy. He is so shy he blends in so good that no one could see him. He likes this girl names Sally Skinky. She said he was the best blender-inner she has ever seen. She convinces him to be in an art show. They said, ?Where is your picture?? He said it was a surprise. He became a lot of things like an ocean wave. Smedley won first prize!
My favorite part of the story is when he camouflages because he?s shy. My favorite character is Smedley because he can camouflage. This story relates to me because I like art. It has pictures and they tell more details. They show how Smedley blends in.
I think you should read this book because the pictures tell more about the story.