Curious George Goes to a Chocolate Factory
Written by Margaret and H.A. Rey
Illustrated by Vipah Interactive
Reviewed by Natalie D. (age 7)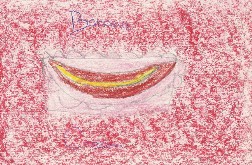 In the beginning, the man with the yellow hat and George stopped by at the Chocolate Factory. The man in the yellow hat was going to buy George a box of chocolate because he knew that George loved chocolate. While the man was in line George was looking around the chocolate factory. Until he saw a bunch of people looking in a giant room. George wanted to know what was going on. So George saw a tour guide showing a group of people what kinds of chocolate they make in the factory and what the symbols stand for. The tour guide said ?the swirl stands that there is fudge in it, but they make more chocolates but George?s favorite is banana cream.? Then when the tour guide showed them how they make the chocolate. At the end of the story George was a hero.
I like the part when George becomes a hero because he is helping others even if he caused the trouble. My favorite character is George because he saved the day and another reason is George didn?t know what the people were looking at. This relates to my life because I like banana cream and so does George. Another one is that my favorite sweets are only chocolate and George likes it too. This story has pictures and they help tell the story because it tells you how did George caused the trouble and how he was a hero.
I think you should read this book because it teaches you how to be a good hero and a great friend.