The Little's Get Trapped
Written by John Peterson
Illustrated by Jaqueline Rogers
Reviewed by Ashley D. (age 8)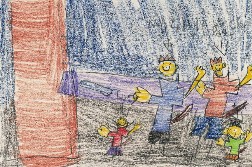 The Little family lives between the walls of the Big family?s house. The Big family went on vacation and the boy that was suppose to feed the cat didn?t come. Tom and Lucy Little decided to feed the cat but the food was in the refrigerator. After they finally figured out how to get in the refrigerator, the boy showed up to feed the cat and locked Tom and Lucy in the refrigerator. After the boy left Mr. Little and Uncle Pete, let them out of the refrigerator.
My favorite part of the story is when Mr. Little and Uncle Pete let Tom and Lucy out of the refrigerator because I know that they are safe. My favorite character is Lucy because she heard the cat. When my family goes on vacation, my grandma feeds my dog like the neighbor boy feeds the cat in the story.
It has pictures and the pictures help tell the story. It is a good book to read so others should read it.