McDuff Moves In
Written by Rosemary Wells
Illustrated by Susan Jeffers
Reviewed by Annie B. (age 7)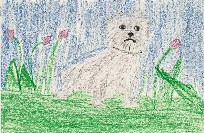 A little white dog is in a dog catching truck. The truck goes over a big bump and the little dog jumps out. It starts looking for a nice place to settle. He went to two houses and they didn?t want him. Finally, at the last house, someone opens the door and says ?come in?. There names are Fred and Lucy and they name the dog McDuff. They love him and dream happy dreams because of McDuff.
My favorite part of the story is when Fred and Lucy asked the dog to come in because it makes me feel happy. My least favorite character is the dog catcher because he was going to take the dog to the pound. I love dogs and I love to read books about dogs that have happy endings. This book has pictures and they do help to tell the story.
I think others should read this story because the pictures look real.