The Bear's Bicycle
Written by D.J. Mac Hale
Illustrated by David McPhail
Reviewed by Kelsey A. (age 7)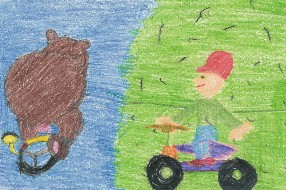 The boy and his stuffed bear go on a hike ride. The boy gets off his bike when he crosses the street. The bear does not and runs into a car. He stays to the right when he sees another bike. But the bear runs into people. He lets people know when he is coming through. The bear runs into people. Then, the boy goes home.
My favorite part of the story is when the boy goes to see the dogs because the dogs are very cute. My favorite character is the bear because he is big. This book relates to my life because the little boy follows the rules like I do. The story has pictures and they help tell the story because it doesn?t say that the bear is following him in the writing but it does in the pictures.
I think others should read this book because it teaches you bicycle safety.