Hatchet
Written by Gary Paulsen
Reviewed by Nick Vaughn (age 10)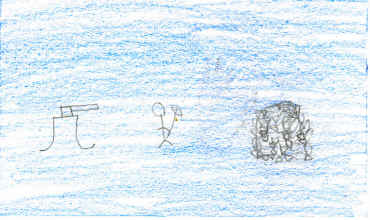 Brian Robeson was flying across the world to meet his dad. His parents had gotten divorced and he had already spent his time with his dad. Brian looks out the window, and the plane driver starts to get a heart attack. Brian hears noises, but ignores them. Before he knew it, the plane crashed. The plane driver is dead. Brian is alive, but is badly hurt. He gets out of the plane, and finds himself in a forest. The tail of the plane is in the water. He is lost and doesn?t know what to do. Will he find his dad? Will his dad find him? Read the book to find out.
I liked the book a lot. It tells you what you could do when you are in a dangerous place, like Brian was. It gives you ideas about weapons you could make and how to get a supply of food. It also gives you tips on things to watch out for in the wild. I could relate to Brian in this story. My favorite part of the story is when Brian runs into an ox and it won?t stop attacking him.
I would recommend this book to someone because it is a good book and it teaches you to never give up. It also teaches important lessons about what to do if someone has a heart attack, what to take with you if you have to leave a plane crash, and how you should not panic.