Old Yeller
Written by Fred Gipson
Reviewed by Lauren R. (age 10)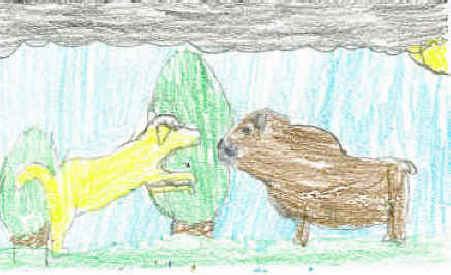 This story is about a dog that shows up at a boy's house. The dog ate their food and made the older boys angry. He remains angry with the dog until the dog saves him. They become best friends and save each other many times.
My favorite part was when Old Yeller saved the boy from the furious hogs. I think this is a great story. Any compassionate person can enjoy this book. This book reminds me of a stray cat my little sister brought home. At first I didn't like him, but then I did. My favorite character was Old Yeller because he is very nice and doesn't care if Travis doesn't like him. I liked this book because it is sad and good at the same time.
I recommend this book to people who like animals. The compassionate dog and two wild boys with a puppy fill your mind with excitement. You should get up and buy this book. It will be enjoyable even if you've read it about one thousand times. Fill your mind with Old Yeller and his pals. Everyone should read this book over and over, it is a great book for all ages.