Meet M&M
Written by Pat Ross
Illustrated by Marylin Hafner
Reviewed by Jennifer L. (age 7)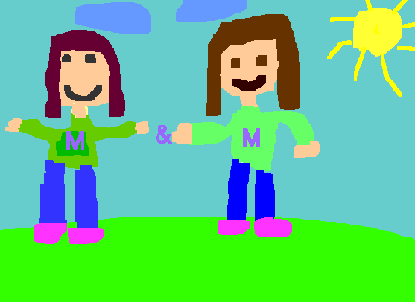 Mimi and Mandy are best friends. Sometimes they pretended to be twins. They both lived in the same apartment building. They call themselves M and M because their names begin with M?s. "We are twins", they told everyone they met. "Rub-a-dub-dub", they sang at bath time. One crabby day, everything went wrong. Mimi and Mandy argued about the games to play and how to play them. Then they played cards. Then they argued where to play. Then they were mad the whole month. There?s a surprise at the end. There?s another book by Pat Ross called "The Haunted House Game" and there?s no arguing in that book.
I think other kids should read this book because it?s very good. When I first started reading it I thought it was boring because I didn?t like the cover but when I read more I liked it because it felt like I was in the book. M and M like to go on adventures and I like to go on adventures too. If you have a twin or a best friend that?s really close to you, you will like this book.
M and M is like "The Haunted House Game" because in both books the kids are bored. You should read "The Haunted House Game" on Halloween because it?s about spooky things and they get scared at the end.