The Meanest Doll in the World
Written by Ann M. Martin
Illustrated by Brian Selznick
Reviewed by Toria F. (age 9)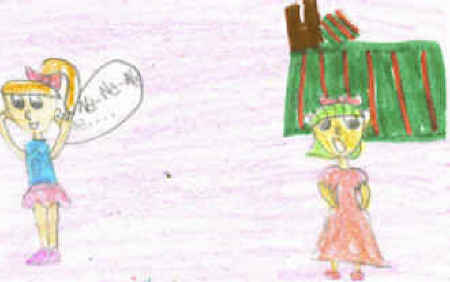 The Meanest Doll in the World is a fun sequel to The Doll People. This is based on when Auntie Sarah, Tiffany Funcraft, and Annabelle doll go to the attic. The three of them stay way too long and don't return till the Palmers are up. Annabelle and Tiffany jump into Kate's bag. At school, the girls get out of the bag and have an adventure. The girls jump into the wrong bag and now they're at BJ's house. What are they going to do? You will have to read the book to find out.
The dolls at BJ's house are awesome, except Mean Mimi. I think you will love this book. Remember, this is a sequel. Read the first book and then read this one. The beautiful pictures by Brian Selznick will let your mind go wild. I think that Mean Mimi is the rudest doll ever. The cutouts were so funny, they made me giggle all day. I loved the fact that you have to stop and re-think what just happened as you read it.
I recommend this book because of its adventures. This book would be best for readers ages 6-10.