Me and Buck
Written by Dave Sargent
Illustrated by Jane Lenoir
Reviewed by Joey O. (age 10)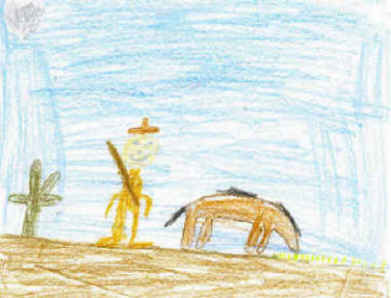 This story is about a man who loves his family, but his dream is to travel west. He took a horse from home, a gun, and three pieces of gold and journeyed west. His journey almost killed him. You?ll have to read this book to see how he almost dies.
I loved this book because of the surprise ending. My favorite character is Buck. He finds water for two people. The saying is ?If Buck is there, you?re safe.? My favorite part is when two people give him food, but overnight they steal his food, water, and put his horse in a horse shop. The man was a boy who didn?t want to leave his family, but when he was a man his dream to go west came true. The illustrations weren?t that good, but they were ok. This book connects to me because my dreams have come true with dangerous things. The author?s meaning was that a dream is more satisfying than an adventure. I think the author hooks the reader really good. Dave Sargent is a great author.
I recommend this book to people who like adventure books. If you liked An Uphill Climb, you would like this book.