A to Z Mysteries: The Vampires Vacation
Written by Ron Roy
Illustrated by John Steven Gurney
Reviewed by Christian C. (age 9)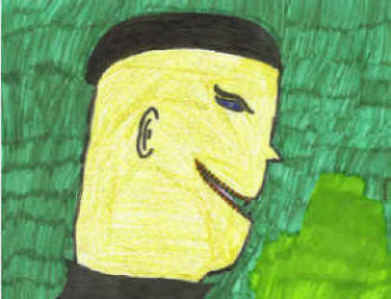 This story is about a boy named Josh and his two friends Dink and Ruth Rose. Josh spies a man dressed in black with slicked down black hair. Josh thinks he?s a vampire. When they follow him into dinner, he disappears. But wait, there?s some kind of band aid on the owner?s neck. This happens other places. The owners of all the stores seem to all have cuts on their necks. Or are they bites? At this point, the kid wants to find out what is going on and solve this. You will have to read the book to find out if there?s a vampire on the loose!
I loved this book mainly because it has great characters. Josh is my favorite character. This book is also a mystery book, and I love mystery books! My favorite part is at the end because you don?t know what they?re going to say or do. My favorite part is when they reveal a secret. This book is part of a series and it is similar to the others. Josh reminds me of myself because I thought someone was someone else once. After reading this book, I think the lesson to be learned from this story is never judge a person by his or her looks.
I recommend this book to other people who like exciting mysteries mainly because it has an unexpected twist at the end.