The Landry News
Written by Andrew Clements
Illustrated by Salvatore Murocca
Reviewed by Madison W. (age 11)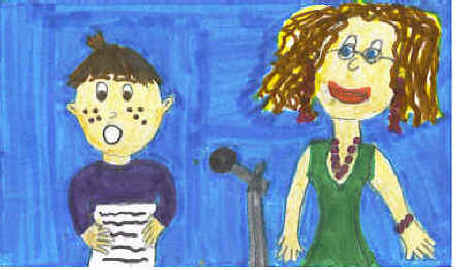 Cara Landry is the new girl at Denton Elementary, but she is stuck with the worst teacher in the whole school. Cara takes charge and starts a newspaper informing people about the terrible things that have been happening in their classroom. Read The Landry News to find out what happens in Mr. Larson?s fifth grade class.
I enjoy this book because it has a mix of mysterious, sad, and funny moments. Also, my favorite character is Mr. Larson and how he figures out all of his mistakes from the past seven years. The unique thing about this book is you would never think to find a book about a little ten year old girl starting a newspaper business. My favorite thing about the book is the strong ending.
I can relate to this book because when Cara starts coming to Denton Elementary she was like a shadow. I was like that too when I started going to a new school. But, in a few days, I met some friends just like Cara did in the story.
I recommend this book to readers who like to stay up late. This book is one you can?t take your eyes off of. Other books you may enjoy by this author are The Janitor?s Boy and Frindle.