The Meanest Doll in the World
Written by Ann M. Martin
Illustrated by Brian Selznick
Reviewed by Taylor C. (age 10)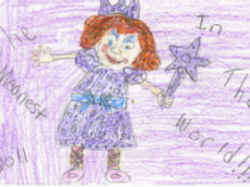 The Meanest Doll in the World is a book for everyone! This story is about two doll families, the Dolls and the Funcrafts. In the book, Annabell Doll and Tiffany Funcraft love to sneak out of their doll houses and go on daring adventures, but cannot be seen by humans. If they get caught, it could mean Doll State or even worse, permanent Doll State! On one of the adventures they bump into one of the meanest, terrifying, an d horrible dolls in the world. This doll thinks she can rule the secret life of dolls everywhere. But not with Tiffany and Annabell around! How do Annabell and Tiffany save the secret life of dolls once again? To find out more, read the book yourself!
The Meanest Doll in the World is one of my favorite books because of the dolls in it, the adventures they go on, and endless other things. I liked how sneaky they had to be to move around. I really thought this was a great book. Mama Doll reminds me of my own mom because she is a caring, loving person. Like my mom, she is also very protective of her children.
I recommend this eighteen chapter, two hundred and sixty page book to anyone who might be interested in learning about Miami Beach and all the doll?s adventures.