A Chair for My Mother
Written by Vera B. Williams
Illustrated by Vera B. Williams
Reviewed by Shyan S. (age 7)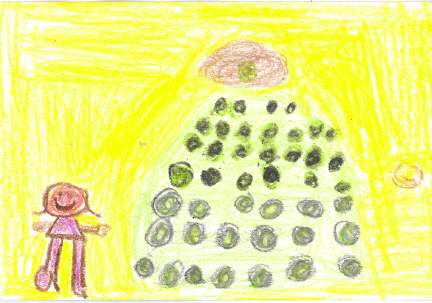 This is a story about a girl that has a mother who works as a waitress in a restaurant. This little girl meets her mother at the restaurant and she helps her with filling the Ketchup bottles and cutting the onions. Every single time her mother?s boss would give her some money the little girl would put the money in a big jar at home. They were saving money to buy a chair because their old house burned down and they didn?t have a chair. After the jar was full the mother would let her count the money and they went to the bank and then they went and bought a chair. This was a big pretty chair that was wide fat and beautiful. They went to take the chair home in a truck and the girl wanted to sit on the chair on the way home but her mother wouldn?t let her. When they got the chair home they sat in the chair together because they were tired, happy and loved each other.
I liked that the mother found a new house after the fire in the old house and that they saved money to buy a new big chair. I didn?t like that their house burned down and they didn?t have a place to live and everything they owned burned too. But it was good that the people in the neighborhood helped them find a place to live. I liked the end because the mother sat in the chair with her daughter and they fell asleep together. I like the pictures in the book because they explain the story.
I would tell people to read this book because it?s a good story about a mother and a daughter and it has a happy ending. I think my classmates in the second grade would like to read the book because it is a happy story. I also think kids in the first grade would like the book because it?s easy to read and there are lots of good pictures. I have read this story to first graders already and they enjoyed it. My best friend Naomi also likes this book too and we read have already read the book together.