The Hardy Boys and the Aztec Warrior
Written by Franklin Dixon
Reviewed by Kyle H. (age 8)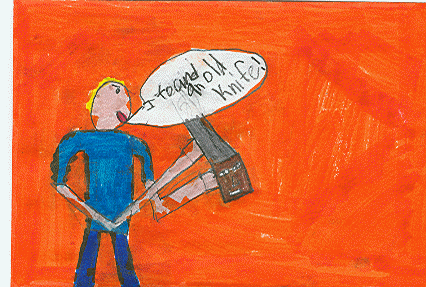 Frank and Joe, also known as the Hardy Boys, have to find an Aztec warrior object but they don't know where it is. They go to a guy's house to look at some slides that might help them know where to look. After they look at the slides, the boys decide to go to Mexico. They find one of two guys who were in the slides in Mexico. They also find a lot of clues there. Will they find the object?
My favorite part of this book is when the boys find the Aztec object because of all the adventures they go through. I like this book because it takes place in Mexico and I love Mexican food. I like Joe because he has blonde hair like I do. A lot of conversation between the characters and a lot of adventure make this a good book. It is also a part of a series.
I recommend this book to second graders because I think they would like to know how the adventure goes. It's fun to think about going to Mexico and having an adventure there. People who like mysteries might like the book, too. The mystery was interesting, and the way the author writes makes you want to finish the book.