The Berenstain Bears: Queenie's Crazy Crush
Written by Stan & Jan Berenstain
Reviewed by David N. (age 8)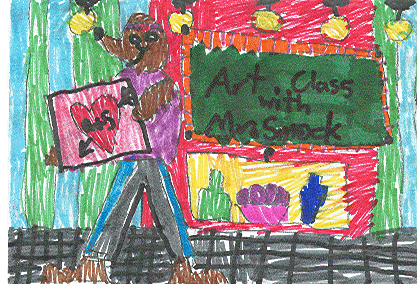 This book is about a new art teacher in Bear Country School named Mr. Smock. Queenie, Too-Tall's girlfriend has a crush on him! It's up to Too-Tall to try to get Queenie back. Unfortunately, Too-Tall doesn't know that Queenie has a crush on a teacher. All he knows is that the crush's name starts with "S", so Too-Tall begins to bully every kid in school whose name starts with "S". Is being a bully the answer? Will Too-Tall get his girlfriend back?
I think this is a good book. I really like it because it is fun seeing how annoyed Too-Tall got. My favorite character is Mr. Smock because he's nice and nice looking. My favorite part is when Too-Tall shows his paintings. His painting had purple oranges - that's funny! I think the illustrations are good, too. They match the story really well, and help me see the story in my mind.
I recommend this book to anyone who likes Berenstain Bears books. If you like this series of books, that's good. You'll love this book the whole way through. I recommend this book, too, because this book will teach you a lesson or two.