A Horse Named Seabiscuit
Written by Cathy East and Mark Dubowski
Illustrated by Mike Rowe
Reviewed by Nichole N. (age 9)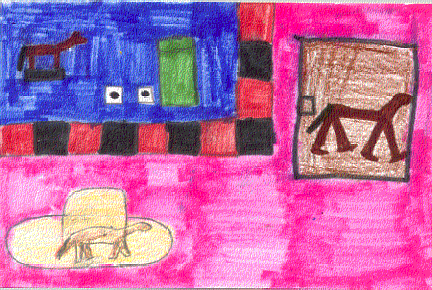 This is about a horse named Sea Biscuit. Sea Biscuit was different than most race horses ? he looked funny, he was small, he walked funny, and he slept on the ground. The characters are Sea Biscuit, his jockey, Smith and war Admiral and his horse. One day Sea Biscuit saw a man. His name was Smith. Sea Biscuit got nervous a lot until Smith gave him a dog, a monkey, and a horse. The next race Sea Biscuit won! He was going to race in the Santa Anita Handicap. Will he win? If you want to find out read this book.
One thing I learned in this book was that miracles can happen. I liked this book because it shows miracles can happen. It reminds me of my brother and my friend Stacy because they love horses. In the story, Sea Biscuit changed because he started to win when he was never winning before. I felt sad at the end but if I tell you why it will spoil the book.
I would recommend this book to people who like horses. I think they would enjoy it because there are lots of horses. I also think they will enjoy it because the jockeys in the story all make friends with each other.