Holes
Written by Louis Sachar
Reviewed by Micah P. (age 10)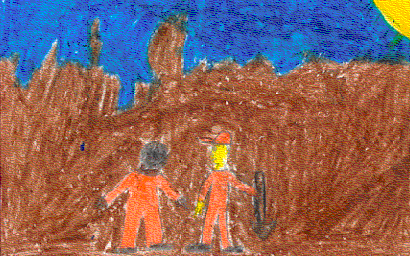 Have you ever been falsely accused of taking something? Well if you have this is totally the book for you. In the book Holes, Stanley Yelnats got sent to Camp Green Lake for supposedly stealing a famous baseball player?s shoes.
Once he got to Camp Green Lake, which is a desert, he meets the warden who forces all the boys to dig holes. Only the warden knows that there is buried treasure in the desert. Stanley finds a tube with the initials KB on it. Could this be the treasure? Follow Stanley?s adventures from Camp Green Lake to God?s Thumb and see if the treasure hunt helps him or hurts him. Will he be found innocent or guilty of more crimes?
I like Holes as it reminds me about divorce and how it can be stressful on a family. Stanley reminds me of my little brother because he was falsely accused of taking something. Holes is similar to another book called Egypt as their life is tense like Stanley?s. I think the book was good because they gave the characters nicknames that show their personality.
I recommend this book to people who have stress in their life and have a hard time making friends because they can relate to the characters in this book. If you like mystery?s this book is perfect!