Lions at Lunchtime
Written by Mary Pope Osborn
Illustrated by Sal Murdocca
Reviewed by Kevin L. (age 8) & Sian M. (age 8)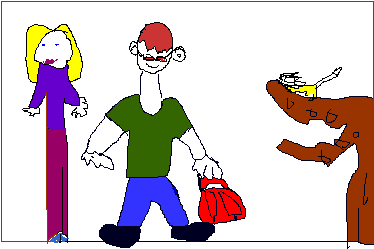 Mary Pope Osborne is the author of the Magic Treehouse books. The owner of the magic treehouse is a friendly ghost named Morgan le Fay. The treehouse has an unusual habit. It spins! Yes, you heard us. It spins! First Jack takes the book that Morgan gives them. Second, he hands it to Annie who then points to the cover of the book. She says, "I wish we could go there." Then the treehouse starts to spin. It spins faster and faster and faster until suddenly it stops. They find themselves in the place where the book is based on. This book takes place in the jungle in Africa. They find animals in Africa and they have trouble. The animals they meet up with are very ferocious. The animals are not happy to see Jack and Annie except the elephant and the bird.
Jack and Annie have to find the answer to a riddle that Morgan gives them so they can become master librarians. Read this book and you?ll find out what the answer to the riddle is.
We recommend this book because it?s an adventure. An adventure is something totally exciting. The book is terrific because it?s got excitement to it.